Marc Denis has worked in all spheres of broadcasting and communications in both English and French over a well-storied career which began in 1968. He is an active member of both ACTRA and UdA since 1975 and is the president of Marc Denis Productions Inc. since 1984.

Marc Denis... through the years


It all begins at Collège Bourget in Rigaud, Québec in 1968 when Marc and some student friends set up CBRV, the college radio station.
The broadcast route then leads to the National Capital region in the early Seventies with stints at CJRC Ottawa and CKCH Hull, while studying at the University of Ottawa. Then come the pioneering years of bilingual radio in Montreal as Marc "Mais Oui" Denis switching languages with ease on
980 CKGM, from 1974 to 1980.


Marc "Mais Oui" Denis, CKGM Montréal, circa 1979
During the Eighties, Marc takes over "PM Drive" at CJFM / FM 96 Montréal followed by the weekend oldies show "La Fièvre du samedi soir" on CKAC 73 and later joining the ranks of CKOI-FM, becoming the first host of its popular "Décompte" countdown program among other duties.
Still in the Eighties, Marc appears on
several lifestyle television programs
in Montreal as a pop music reviewer
and new gadgets presenter or as host
on both English and French television,
CFCF 12, CBC, Télé-Métropole
as well as being a regular staple of
The Muscular Dystrophy Telethon
on Télé-Québec for 15 consecutive
years (1981 to 1995, inclusive).
Marc Denis also becomes the first vee-jay of a dusk-'till-dawn music video marathon on private television in Québec, hosting, "La Grande Nuit Vidéo" in 1984 on the TVA network. Radio comes calling again in the Nineties with a stint at CJFM (by then Mix 96 Montréal) on a Sunday morning retro music and interview show called "Marc Denis Reeling In The Years".
Marc also produces and hosts many pop music and interview programs for the
in-flight audio systems of Air Canada
("Coffee, Tea or…Pop®"/ "AéropopMD")
and British Airways ("ConcordialitéMD")
as well as being the voice over talent or actor in several radio and TV commercials including the Quaker State Motor Oil TV spokesperson for five years on English and French television. Voice dubbing in both languages for films and cartoons along with corporate video production are still favorite professional activities.
Marc as millionaire

"Marcel Doucet"

in


"The Young Adventurers"

As well as being a voice over artist,
Marc enjoys acting when solicited.
Through the years, he is recruited
twice for the television series
"He Shoots, He Scores" as hockey analyst "Danny Aubé'', as ''Cocky''
the exterminator in ''Virginie'', as
the ''Peter Desbarats'' CBC-type in
''The René Levesque Story'', in
"Agnes of God" with Jane Fonda
as anchorman "Bill Hughes", in the
film "The Young Adventurers" as
the wealthy "Marcel Doucet" and
with Rod Steiger in "The Kid" as
"Buff", the boxing ring announcer.
Marc as colourman
"Danny Aubé" alongside
hockey play-by-play voice
Alain Crète in the series
"He Shoots, He Scores"
Marc as "

Cocky

" the exterminator alongside cockroach-seeking sidekick "

Rocky

" in "

Virginie

"
Marc playing the CBC-TV type delivering October Crisis communiqués in "

The René Lévesque Story

"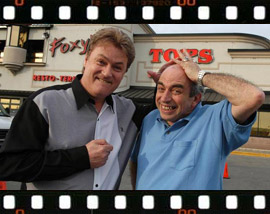 Marc Denis as "Danny", the Speed Dating host in an
episode of the comedy series "Bob Gratton". Marc
is seen here between takes with a "topless" Bob
(actor Julien Poulin)
Marc at

97.3 EZ Rock

, Toronto

(1997-2000)

After 5 years in Toronto (1997-2002) where he holds fort on 97.3 EZRock in English and at CJBC Radio-Canada in French, Marc returns to Montréal in 2002 and 2003 to host on 105.7 Rythme FM.





From 2005 to 2008, Marc is part of the crew at Montréal's Q92, soon to join sister stationc AM 940 Montréal's Greatest Hits of the 60s-70s & 80s as host of 'The Marc Denis Show' weekday mornings for a stint in 2008 and 2009. All the while, Marc continues to pursue freelance corporate video production and his voice talent agenda at Marc Denis Productions Inc.




Marc on AM 940 Montréal
(2008-2009)



The adventure continues...